This is one of my favourite and easiest dishes! If you know me, you know I love my pasta. People are deathly afraid of that word because they automatically think of refined carbs. Turns out, my recipe is nourishing to the body and an essential part of my modernized Mediterranean diet. I'll tell you why…
–Garlic= anti-inflammation, heart health, blood-detoxifier.
–Veggies = fiber, protein, minerals that aid in glowing skin, loaded with essential vitamins.
–Grains= fiber to lower cholesterol and help reduce constipation (which is detrimental to feeling good and looking good).
–Olive oil= weight-loss, heart health, liquid gold for your skin!
–Herbs= antioxidant, digestive aids, anti-cancer, heart health, anti-inflammation.
You don't need parmigiana cheese or alfredo sauce because the pesto is already so flavourful and the nuttiness adds creaminess without the dairy. The types of grains that I use as a pasta won't make you bloated because they contain less gluten and are less processed. When you enjoy pasta my way, you can enjoy a comfort-food dish without the heavy feeling afterwards. There is enough protein and complex carbs in this meal to eat post-workout to ensure your muscles are being toned rather than being burnt up.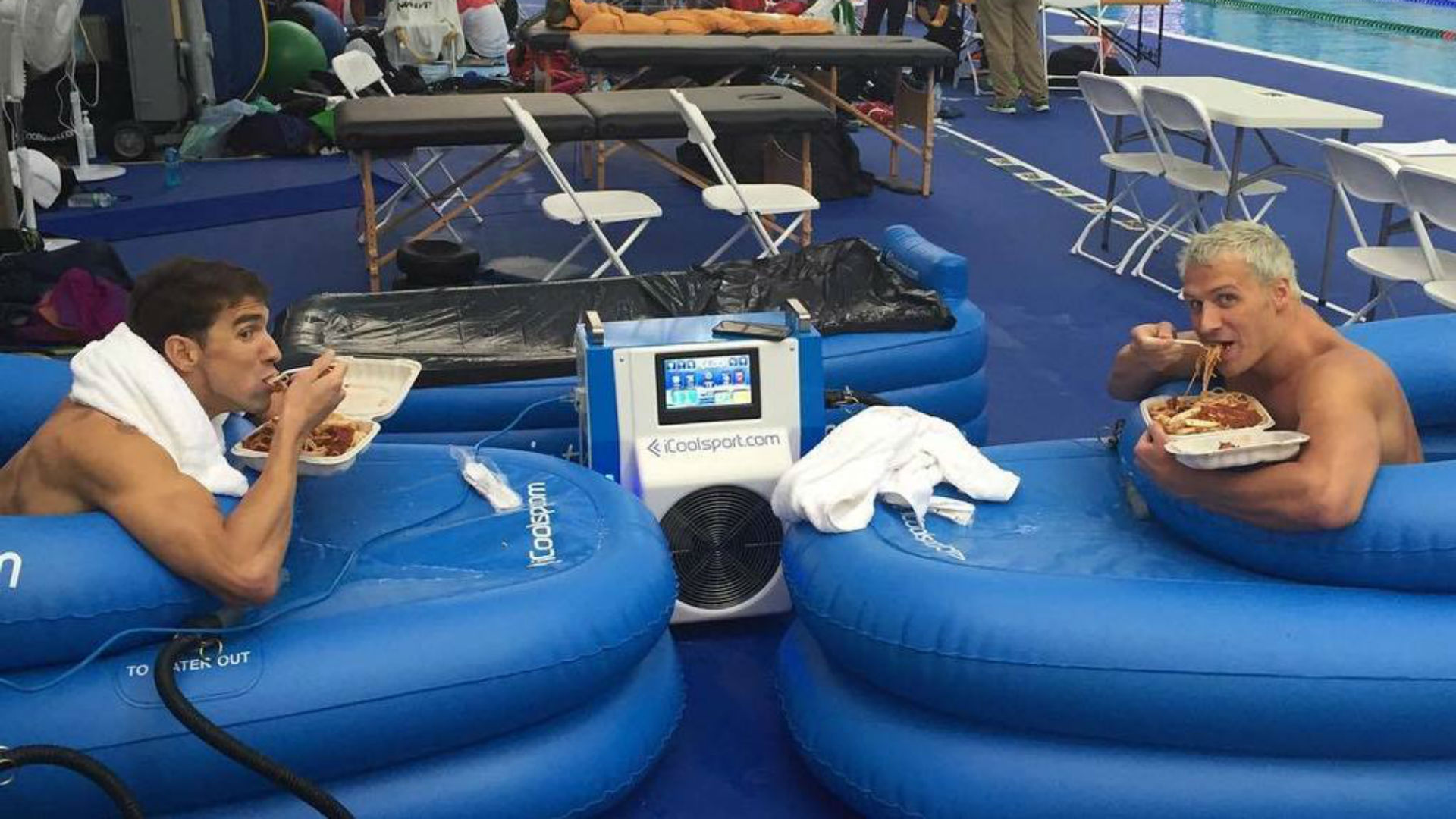 Follow this easy recipe and make extra so you can store some in the freezer in separate containers to grab on your way to work in the mornings.
Ingredients:
-Pasta options: Ezekeil, Whole Grain, Brown Rice, Spelt or Fresh Pasta noodles infused with spinach like mine from the refrigerated section at Whole Foods (no preservatives and added lean green protein with the spinach)
-1-2 cloves of Garlic, crushed or minced
-1 tbls of Olive oil (EVOO)
-Fresh Pesto (I get mine for $4 fresh in the refrigerated section at Whole Foods but you can easily make yourself with a food processor)
-1 Zucchini
-1 bushel of Asparagus
-1 breast Chicken or 1 fillet Salmon (optional) (I used chicken that I marinated in olive oil, dried oregano, salt & pepper and then baked for 20 minutes at 350 degrees) baked and chopped into cubes.
-Basil sprouts
-Salt & Pepper
Instruction:
-Bake or grill the chicken/salmon to your liking
-Boil the pasta
-Soak the asparagus in water with white vinegar. Hold both ends of each asparagus and bend to snap it, use the top half of where it snapped. Cut the top half's into 1/2 inch pieces.
-Peel the zucchini, cut in 1/4 inches thick pieces.
-Drizzle olive oil into a large skillet pan on MEDIUM/LOW heat. Stir in garlic. Add in the chopped veggies and stir occasionally for a few minutes until cooked.
-Drain the pasta and add it into the pan with the vegetables. Toss ingredients in the pan.
-Pour the pesto sauce over the pasta and add olive oil if needed. Toss ingredients again.
-Add salt and pepper to taste.
-Serve on dishes and garnish with a pinch of the basil sprouts.
-Buon Appetito 🙂